May is Safety Around Water Month. The Kenosha Safety Around Water Coalition Continues to Raise Awareness and is Offering Tips To Keep Our Community Safe in and Around Water this Summer.
Tip #3: Don't Swim in the Pike River
There may not be a more dangerous spot on the Lake Michigan shore than the mouth of the Pike River in Kenosha. 

 
The mouth of the Pike River is at the north end of Pennoyer Park between Pennoyer and Alford Park. Its location between two ideal beaches makes it a tempting location to swim. Often, it appears as shallow tide pools with water warmer than Lake Michigan. However, the mouth of the Pike River is not a safe place to swim due to outlet currents and sediment buildup from the river's current.  
Outlet currents can be found where rivers and streams empty into the Great Lakes. The flow of water from the river or stream can move quickly. As it enters the open water of a lake, it may take a while for that current to dissipate. Pair that with currents in the lake, such as rip currents and offshore current, and the situation can become dangerous. 
Also, in some river outlets, the direction or location of the mouth and the amount of water being released can change. This can and does happen suddenly with the Pike River as sediment regularly builds up blocking the mouth, giving a false sense of security on some days. Inevitably, the mouth of the river will open again, and the rush of water will become a dangerous outlet current.  
Eight people have died swimming in the mouth of the Pike River, since 1985, despite common knowledge of treacherous water conditions and warning signs that declare the spot off-limits to swimmers. Therefore, it is important to heed the warning signs and find a safer location to swim at either of the adjoining beaches.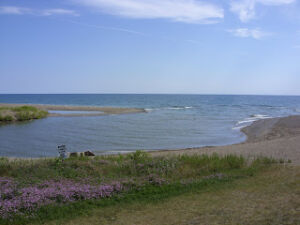 Looks can be deceiving – the
Pike river is extremely dangerous.