May is Safety Around Water Month. The Kenosha Safety Around Water Coalition Continues to Raise Awareness and is Offering Tips To Keep Our Community Safe in and Around Water this Summer.
Tip #5: DON'T JUST PACK IT – WEAR YOUR LIFE JACKET
Once warm weather finally makes it to Wisconsin, many boaters enjoy the feel of sun and spray. It is tempting to boat without wearing a life jacket especially on nice days. But, most boating related drownings happen on nice days.
The law in Wisconsin states all vessels including canoes, kayaks, and paddle boards must have at least one USCG approved wearable life jacket for each person on board. Children 13 years old and younger must wear a life jacket that fits them on moving coastal waters. In addition, all vessels 16 ft or more in length must have one USCG approved throwable personal safety device onboard that is immediately accessible.
It is not enough to just have the life jacket on board. Ask yourself, in case of emergency, would you have the time to find it, grab it, and put it on you before you and your loved ones are in the water?
According to the US Coast Guard, in 2020, there were 767 deaths due to boating accidents with 575 of those deaths attributed to drowning. Eighty percent of (or 460) those victims were NOT wearing a life jacket.
Overestimating your ability to swim is one of the main reasons given for going without a life jacket. Even the best swimmers can (and do) get into trouble with sudden immersion in cold water or by being knocked unconscious. Knowing how to swim does not protect you from drowning, when faced with fear and anxiety you may react differently than you think.
It is also the assumption that the majority of drowning victims are children. However, 1 and 5 people who die from drowning are children, which means that adults are the other four.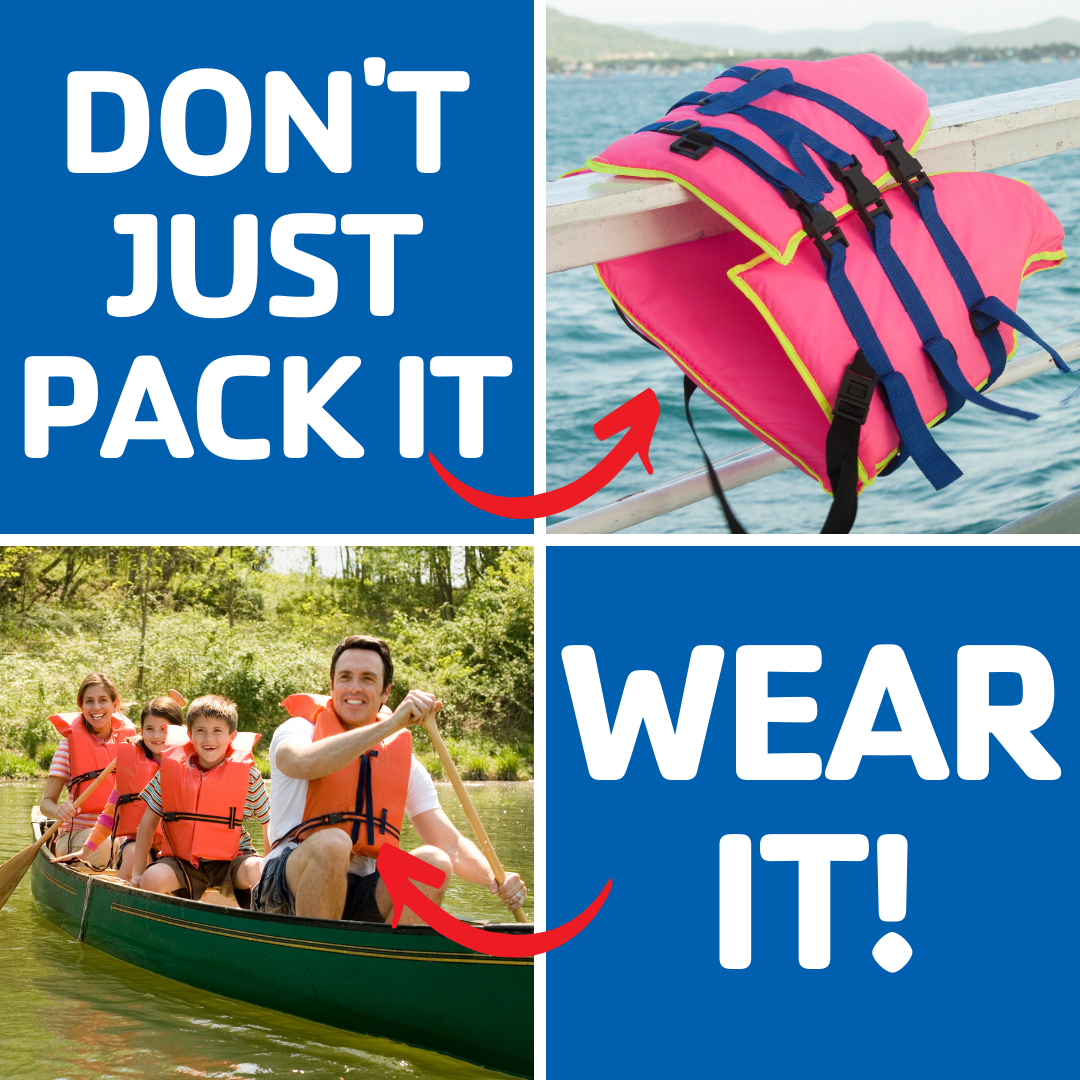 How do life jackets save lives? Simply put, they provide buoyancy
if you unexpectedly find yourself in the water
if jump in to save someone else
if you are non-swimmer or weak swimmer
when you are no longer able to keep yourself afloat due to fatigue, injury, or cold
When selecting a life jacket, it is important to remember that some styles of life jackets are meant for boating. Others are meant for water skiing and some are tailored specifically for children or non-swimmers. Be sure to choose the appropriate life jackets for your activity, your abilities, and be honest.
To learn how choose and properly fit a life jacket visit: https://www.uscgboating.org/images/howtochoosetherightlifejacket_brochure.pdf
No matter which one you choose, the best life jacket will always be the one that you will wear.
Learn more about the Kenosha YMCA's swim programs or water safety initiatives.
The Kenosha Safety Around Water Coalition meets monthly and works together to raise awareness around issues of water safety. Our mission is to create a culture of healthy respect and safe enjoyment of water in the Kenosha area through education and advocacy. Our current focus is Lake Michigan Safety. Our goal is to change the culture by educating students, parents and the general community that jumping from the pier and swimming in Pike River and Pike Creek is dangerous and life threatening. The Kenosha YMCA has hosted a monthly Safety Around Water Coalition meeting, made up of community members from all sectors, to keep the focus on raising water safety awareness year-round. Members of the coalition include representatives from the Kenosha YMCA, City of Kenosha Fire Department, City of Kenosha Police Department, City of Kenosha Aldermen, Village of Somers, Great Lakes Surf Rescue Project, Kenosha County, Carthage College and concerned citizens.