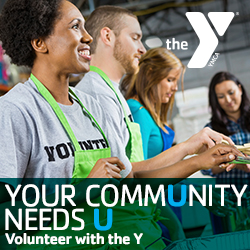 VOLUNTEERS ARE AT THE HEART OF THE Y.

We were founded by a volunteer and we continue to be governed by volunteers. When you volunteer at the Y, you take an active role in bringing about meaningful, enduring change right in your own neighborhood.
The YMCA hosts several one-day special events throughout the year where volunteers are always needed. These events include fundraisers and community service awareness efforts to support the Y's initiatives. But they all have ONE thing in common…WE COULDN'T DO IT WITHOUT THE HELP OF VOLUNTEERS LIKE YOU! YOU can make a difference with only a couple hours a YEAR! Of course we show our appreciation to our volunteers by giving things like t-shirts, snacks and Y guest passes.
Special events are also a great opportunity for large groups to volunteer together, but work on different tasks that are of interest to them.
GIVE A LITTLE, GET A LOT!
Ready to serve your community? Click on the event image below! You will be redirected to SignUp Genius, a secure volunteer sign-up website; you may choose to create an account to receive reminders and invitations (from us only) for other volunteer opportunities. Thank you in advance for helping to make our community great!!