CHARACTER FIRST,
COMPETITION SECOND
The youth sports program at the Y has four goals regardless of the skill level of each child: skill improvement; knowledge growth; character development; and most importantly fun. The youth sports programs are structured to provide each child an equal opportunity to improve.
Instructional Programs
Skill Progression

Game Knowledge

Character Development

Fun

Simulated Games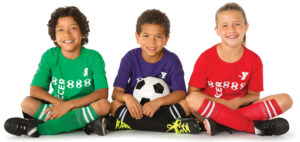 Each eight week instructional program is focused on giving each child an equal opportunity to improve in game fundamentals, game knowledge, sportsmanship and teamwork, appropriate competition, and most importantly fun.  As the program progresses from week to week, the instructors will be spending less time on instructional drills and more time on game strategy through simulated games.  Children are divided by grade level in each instructional program.
GETTING ALL KIDS ACTIVE THIS FALL….
SUPER KICKERS
All participants will enjoy this fundamental indoor soccer class for kids with diverse abilities. Participants will meet new friends while growing their athletic skills and confidence. Class time will consist of drills such as dribbling, passing, and taking shots at the goal.
For this class to run smoothly, we will need volunteer adults to help assist kids as needed. Please email Blake Collins at bcollins@kenoshaymca.org to volunteer
or for more information. Minimum: 5 / Maximum 15 Participants
SPEED & AGILITY TRAINING

Now with Personal Trainer Q, CPT
Ages: 10-18 Court 3 in Gymnasium
Do you have a child in sports looking to unlock their performance, improve muscle endurance, and stabilize balance to prevent injury and learn correct joint movement? Eight weeks of intense work with Q will help you reach your maximum acceleration speeds & top end gains, regardless of the sport(s) you play. Participants: Min 4, Max 20
INTRO TO SPORTS
Is your little interested in sports, but doesn't know which one? This class is PERFECT FOR THEM because they can learn a little about a few of them! This program will introduce kids o the basic components of soccer, baseball, and basketball. Participants: Min 5, Max 15
Ages 5 – 9 years