Before and After School Program
The Kenosha YMCA Before and After school program is offered throughout the community and is more than just a safe place before and after school for students. Allow your child to develop their skills and habits in a safe and nurturing environment. At the Kenosha YMCA, we offer a before and after-school program to build upon what you would expect from a regular childcare center.
We approach child care as an opportunity to enhance what kids learn in school by supplying essential life lessons through fun and engaging activities. Rest assured that your child will experience these enriching activities in a supportive environment that wants nothing short of the best for your child. The Y believes in strengthening communities through youth development because a community is stronger when all children have the opportunity to discover who they are and what they can achieve.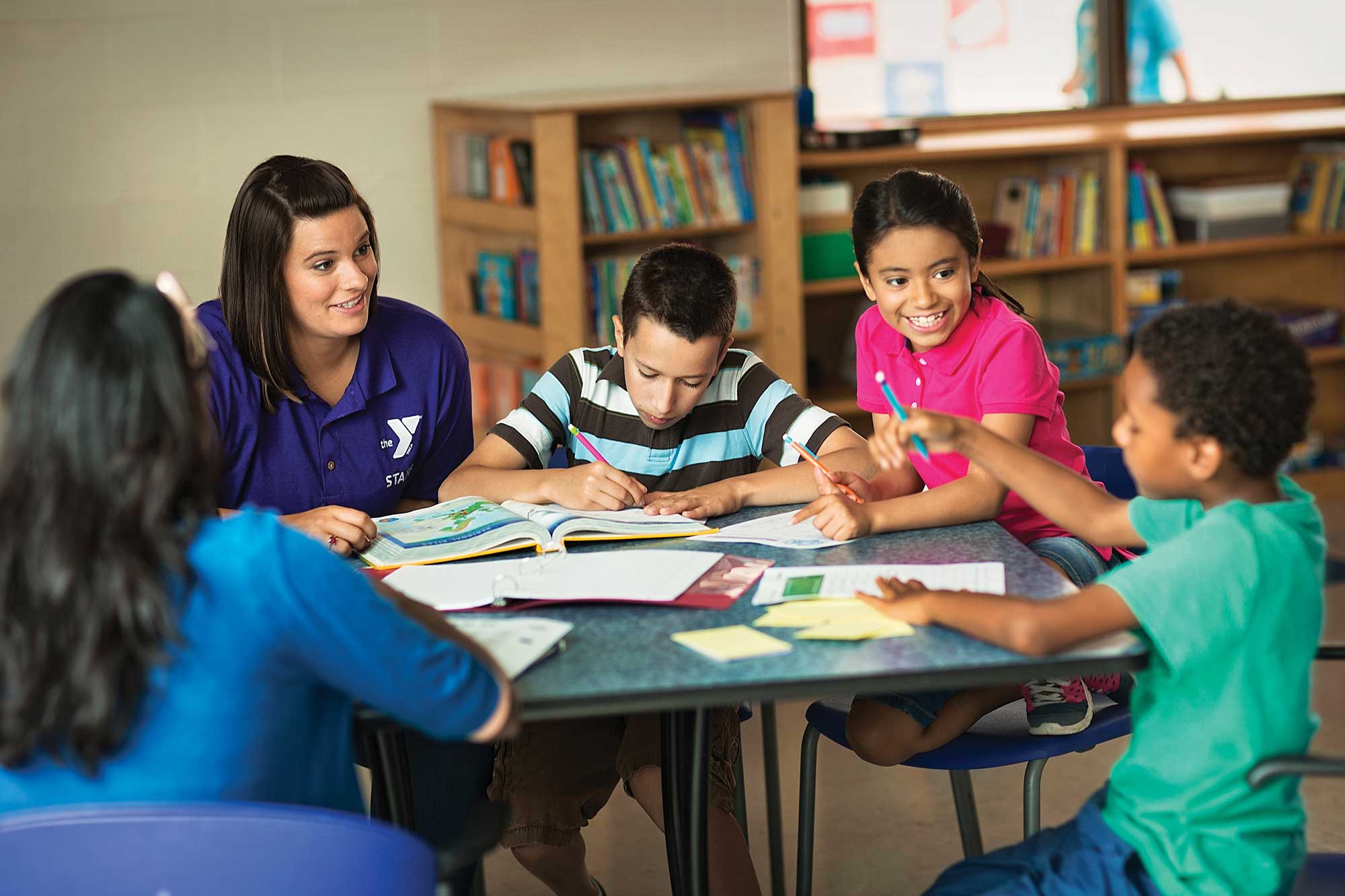 The YMCA Before and After School program offers care to children at the YMCA building and several KUSD schools, including:
Kenosha YMCA-Callahan Family Branch
Dimensions of Learning
Prairie Lane
Forest Park
Stocker
Before-school care opens at 6:30 am until school starts, and after-school care is available from dismissal until 6:00 pm.
1. Enroll your child by clicking on the Blue Button to the right.
2.Return completed packet to the Kenosha YMCA Membership Desk and/or scan and email completed packet to [email protected]
3. Schedule your days of care by clicking the orange online scheduling button to right.
4. If interested in meeting your staff and learning more about the program, please contact the Youth & Family office at [email protected] to schedule a meeting.
Enrollment forms can be downloaded, saved as a PDF, and submitted to the Youth and Site Director at the BASE locations or the Kenosha YMCA Member Service Desk. Enrollment is accepted year-round, and students may begin attending within two business days of providing the required forms.
A one-time registration fee of $30 per child* is required for participants at the time of enrollment. Families with multiple children receive 10% OFF fees for each additional child attending the program. Wisconsin Works is accepted, and a co-pay may apply.
Children enrolled in BASE also receive a FREE Kenosha YMCA Youth Membership! The Y welcomes people of all ages, abilities, incomes, ethnicity, and religions. When you join, you become part of a worldwide organization that helps members improve their spirit, mind, and body while building a stronger sense of community.
BASE Program: Before and After School Enrichment
The Kenosha YMCA Before and After School Enrichment (BASE) program aims to help children make everyday life substantial and rewarding. Beyond offering a safe place for your child, the Kenosha Y strengthens the community through youth development.
We believe that strong children build strong communities. So, we focus on giving children the opportunity to discover themselves, improve their skills, and set goals. By enhancing the children's experiences through our BASE program, we achieve our goal of refining the community.
We designed our daily structured activities to operate under Four Core Values:
Honesty
Respect
Responsibility
Caring
While we have an established curriculum within our BASE program, we balance this with choice-free time. We believe that nurturing children involves allowing them to discover themselves outside of rigid daily structures.
BASE Program Overview
Our passionate team is ready to provide a variety of before and after-school activities to enrich your child's mind. We follow all state licensing standards while nurturing the potential of every child.
Here is a brief overview of our established, high-quality program and what you can expect your child to experience with the Kenosha Y:
Academic Support: We assist children with homework they may find challenging.
Physical Activity: We offer structured games and free time.
Socio-Emotional Development: We help children understand the value of interpersonal relationships.
Cultural and Arts: We develop children's appreciation and understanding of different cultures and the arts.
Stem: We offer fun ways to teach science, technology, engineering, and mathematics.
Community Service: We teach the value of being part of a community.
Nutrition: We help children understand the importance of health and wellness.
Achievers Program
The YMCA's dedication to enriching children's life compliments our BASE program by extending deeper support to the academic needs of the children in our program. With the Achievers Program, the Y will provide additional help to students facing reading and math difficulties. If your child is struggling in these areas, they will participate in a skill and concept reinforcement and practice in small groups. In addition, they will benefit from individualized tutoring specific to their needs. This is not homework help … it is targeting the skills and concepts that each child is struggling with and then helping them achieve grade-level proficiency. The Achievers Program works in conjunction with our fun-filled "be a kid" traditional After School program to provide the best of both worlds for your son or daughter. Visit our Achievers Page for more information.
Superior School-Age Child Care For the Summer
When the school year has ended, we offer a full time Summer Program at the Kenosha YMCA. Our Summer Day Camp Program aims to keep children's young minds active outside of the classroom through fun outdoor activities.
You can expect these program options to maintain the same level of professionalism and enrichment we offer with our BASE program. Our dedicated team provides excellent services in a safe environment where children can learn to excel in all aspects of life.