Kenosha YMCA Announces the Return of Three Major Events in 2022
The Kenosha YMCA invites you to save the dates for the return of the Annual Firecracker Run/Walk, FORE! A Good Cause Golf Outing, and Fall Festival!
The following events and programs allow the Kenosha YMCA to continue to provide a safe place where kids can go to gain confidence and self-esteem, a place where families can reconnect and grow stronger together, and a place where older adults can stay active and social.
July 3: Firecracker Run/Walk at Kenosha's Lakefront
The month of July kicks off with a sizzling start at the Annual Firecracker Run/Walk on July 3. The race along Kenosha's scenic lakefront begins at 8:30 a.m. at Kenosha's Library Park in Downtown Kenosha and ends in the same location with an award ceremony. Options include a 5k in-person ($30), 5k virtual, 10k virtual, or 1-mile virtual fun run. All ages are encouraged to participate and register by June 29 for $25. Last chance registration on July 1st is an additional $5 registration fee. The first 400 entrants will receive t-shirts and participant medals.
There is also an opportunity for your family and friends to be a part of the event by being a Volunteer! Volunteers are needed for packet pick-up, registration, and course safety. Volunteers receive a t-shirt too, and a Y guest pass! Contact Tenille at [email protected] or message us on Facebook for further details.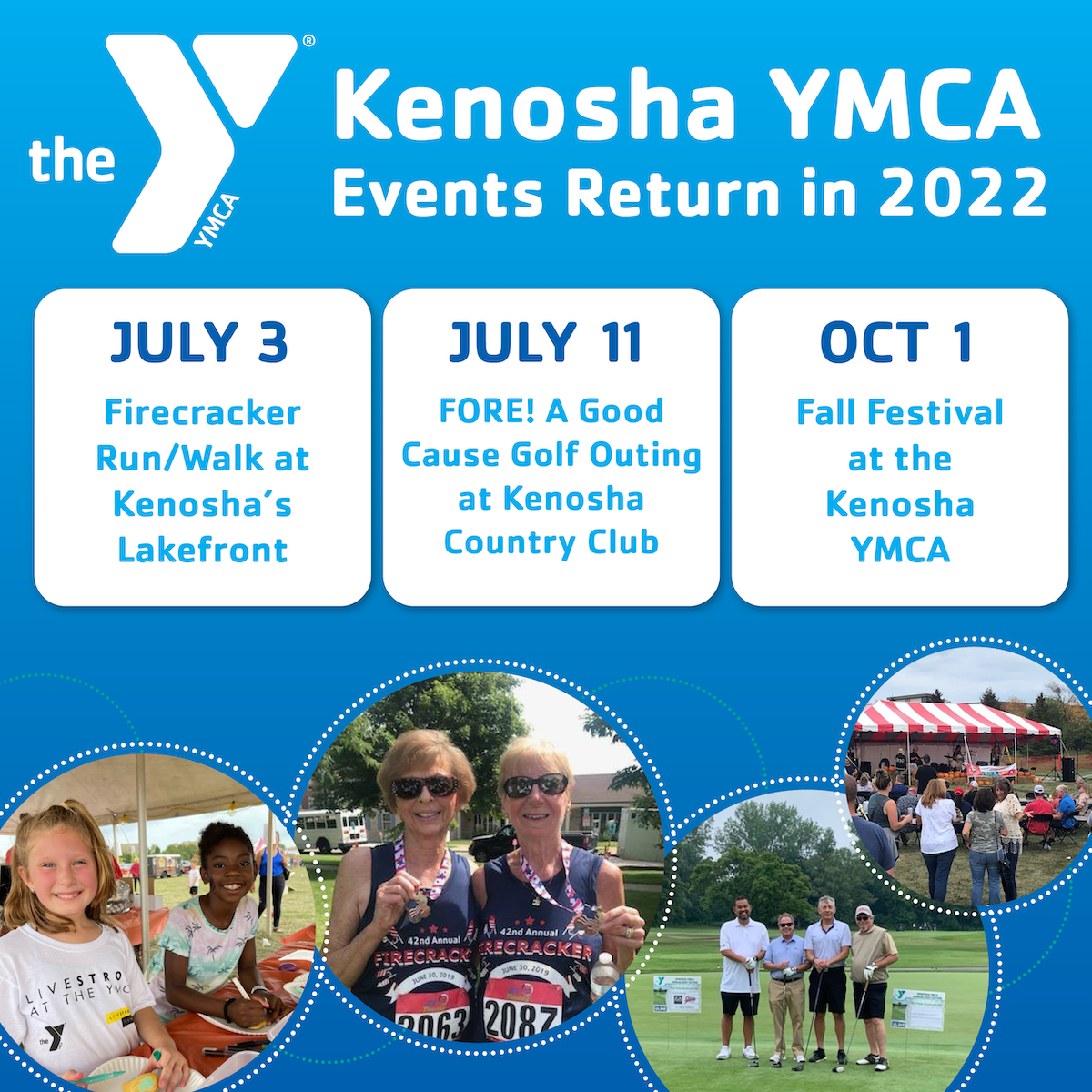 July 11: FORE! A Good Cause Golf Outing
The annual FORE! A Good Cause Golf Outing held at the Kenosha Country Club on July 11 is a time-honored tradition. The event includes a day of fine food, fun golf, and fellowship while knowing your participation is helping those less fortunate in your community. Support of the outing allows us to continue our commitment to youth development, healthy living, and social responsibility.
This sellout event is already almost at capacity, but the Kenosha YMCA is still seeking event sponsors and silent auction donations. As an event sponsor, you'll enjoy increased name recognition and goodwill in the community, in addition to the specific benefits associated with supporting Kenosha YMCA events. For more information on the outing please contact Chris Finkel at 262.564.6813 or [email protected]. All sponsorships are tax-deductible within the extent of the law.
October 1: Fall Festival at the Kenosha YMCA
Kenosha YMCA's outdoor Fall Festival has EVERYTHING… live music, food trucks, a beer tent, a fun run, a dance class, bounce houses, and more!
The event kicks off with a Lap for LiveSTRONG 1-mile Fun Run/Walk. Then it's time to 'PLAY BALL'! The Miracle League Showcase game will take place on the Miracle Field. Come and cheer on these awesome kids of all abilities as they cross that home plate. Of course, it wouldn't be a YMCA event without a workout! Join a wildly addictive cardio dance class based on the hottest pop and hip hop music. Closer to the event, activity registration pages will open and participation in most includes a free t-shirt.
After all that exercise it's time to relax, listen to some live music, and dine on delicious fare from local food trucks. For more information on being a vendor or sponsor of the festival please contact Chris Finkel at 262.564.6813 or [email protected].
12-Week Program: LIVESTRONG at the YMCA Helps Cancer Survivors
In addition to these great events, many programs are open in 2022 including LIVESTRONG®, an evidence-based program that helps adult cancer survivors reclaim their health and well-being following a cancer diagnosis. It focuses on you—the whole person—not the disease. It is open to any adult 18 years or older who is living with or beyond cancer treatment. The 12-week program meets twice a week for 90 minutes and uses traditional exercise methods to ease you back into fitness and help you maintain a healthy weight.
Like all programs at the Kenosha YMCA, LIVESTRONG offers a safe, supportive environment to participate in physical and social activities focused on strengthening the spirit, mind, and body. We encourage you to Find What Moves You by taking a tour of the Kenosha YMCA located at 7101 53rd Street in Kenosha, Wisconsin.